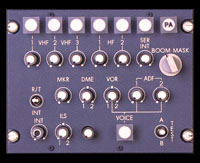 1U550 Audio Selector Panel
The 1U550 ASP provides a means for selecting transmission on one of five communication radios or the service interphone (-001 & -002 units only) or PA system (-001 & -002 units only).  Also provided are separate select/volume controls for the five VHF COMM radios, two interphone systems, eight navigational radios, two ADF and one Marker Beacon radios.
 As many as seven transmit functions are available via square pushbuttons across the top of the ASP. These buttons are interlocked so that only one can be depressed at a time. Up to 18 receivers can be monitored by selecting any or all of the 14 round pushbutton switches.  The volume of each selected receiver can be individually set by rotating the round knob.  The round buttons are slightly illuminated at night and when depressed, increase in brightness.
A voice filter in the Central Audio Unit can be activated by the square pushbutton labeled "VOICE".  This filter is utilized on the VOR and ADF outputs. The square button is slightly illuminated at night and when depressed, increases in brightness. A two position rotary switch selects either the BOOM microphone or oxygen Mask microphone.  Selecting MASK also activates the cockpit speakers.
A three-position toggle switch (off in center position) allows continuous selection of interphone transmission or momentary transmission on one of the selected transmit functions. This switch serves as a backup for the key switch on the aircraft control wheel. A momentary-off-momentary "TEST" toggle switch allows testing the A or B circuits in the Central Audio Unit.