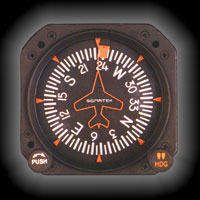 4000H-series XYZ Bootstrap Directional Gyroscopes
Sigma Tek's Directional Gyro with heading synchro output provides a cost effective link to "bootstrap" other instruments requiring heading information for: display orientation to aircraft heading, heading stabilization functions, and other navigational calculations and/or solutions. Specific applications include: Argus Moving Map Display®, L-3 Avionics Stormscope®, and Insight Strike Finder®.

The heading output exactly tracks the aircraft heading as depicted under the index pointer on the Directional Gyro. The synchro index and rotation reference is set to ARINC characteristics. The 26 VAC, 400 HZ heading synchro requires a readily available external excitation, preferable from the instrument/system receiving the heading output or from an independent inverter.

Sigma Tek's Directional "Bootstrap" gyro includes options for lighting and interfaces for ARC, Century Flight System, and S-Tec autopilots.

Options
Specifications
Compatibility
The 4000H-series is compatible with the following systems:
L-3 Avionics Stormscope®:
WX-11
WX-500
WX950
WX1000
Argus Moving Map Display®:
Model 5000
Model 7000
Insight Strike Finder®:
All Models